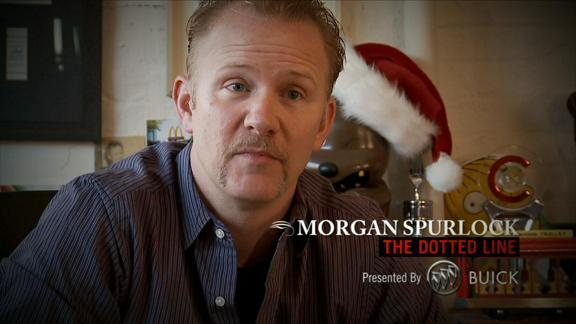 This week ESPN Films gave us The Dotted Line by Morgan Spurlock.  The Dotted Line is a documentary that gives us a glimpse into the life of sports agents. Morgan Spurlock is the man most famous for being the guy who ate nothing but McDonalds for 30 days in his documentary Super Size Me.  His documentary was definitely a cultural shock at the time and led to the fast food industry making drastic changes to their entire menu.  Unfortunately for him he will probably never be able to be seen as anyone other than "that guy" to the public, but that does not mean he is not an excellent documentary film maker.  Spurlock definitely has his own style of film making and The Dotted Line goes along with this format perfectly.  
I think that in today's sports world the agent is viewed as a parasite.  I, for one, believe that athletes today are paid way too much money and it would seem safe to say that the reason for their outrageously high salaries are their agents.  This is the agents job obviously but that doesn't mean they aren't ruining sports.  After watching this I learned a lot about sports agents that I had no idea about before.  For example I had no idea that is the agents responsibility to get their player ready for the draft.  Agents can sometimes put 25 to 30 thousand dollars into a player who might not even be selected in the up coming draft.  In the case of Eugene Lee you see this more so than any of the other agents.  Lee is struggling and it shows, but he works very hard and is truly committed to the players he signs.  You can really feel his anxiety and frustration at the end, when one of his players gets drafted in the 6th round, but 3 weeks later terminates Lee and his associates as his agent.  It's hard to imagine how horrible Lee must feel knowing he put all that effort into his athlete only to be fired.
This documentary shows all sides of the industry, from up and coming agent Eugene Lee, to the already established baseball agent Peter Greenburg, who is responsible for Johan Santana's elite contract with the New York Mets.  They even interview David Falk who was Michael Jordan's agent and truly revolutionized the idea of a super star athlete.  I really like the interview with Josh Luchs  who is mostly known for getting in trouble with NCAA for breaking their negotiating rules with agents.  Luchs explains that what he got in trouble for, was something he had been doing for over 10 years, and something he had been instructed to do by agents who had come before him.  Jeremy Schaap, who writes for ESPN, states at the very end of the documentary something that really stuck with me.  He basically explains that agents serve the purpose of defending the players against billionaire owners who have entire teams of lawyers at their disposal.  That is something I had never really considered before.  Sports agents do serve a purpose, and at the end of the day they are people who are trying to make a living.  They truly believe in the players they sign and they want to see them succeed not just for there own benefit but because they care about them.  In the case of Peter Greenburg, he signs baseball players from Venezuela who probably won't even make enough to start paying for Greenburgs help until 7 or 8 years into their pro career.  Some of them don't even make it that far, but Greenburg doesn't care.  He gives these kids an opportunity that they would never get anywhere else and in the end, that is all he really wants.